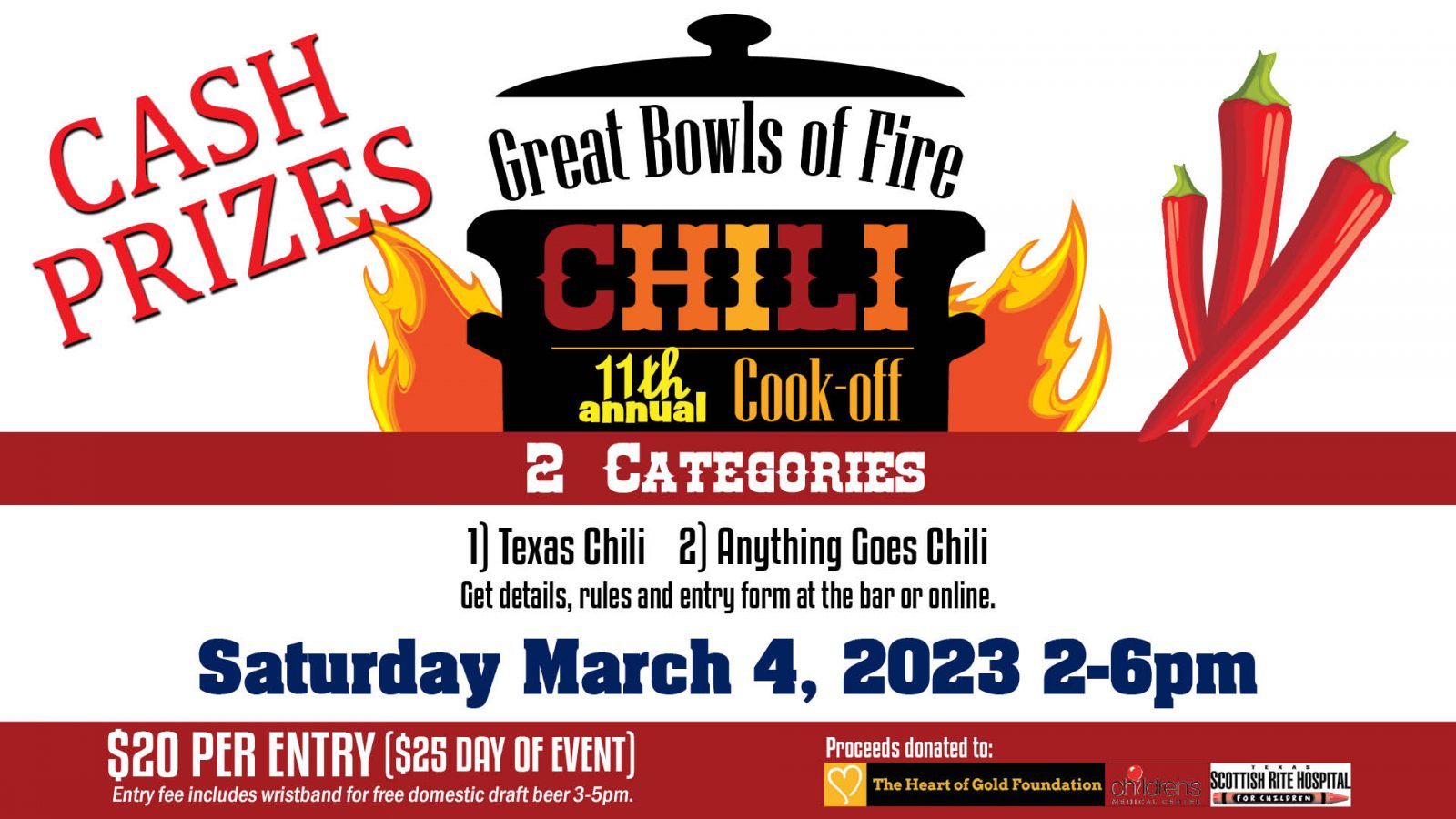 Goodness gracious, Great Bowls of Fire!!! We're hosting our 11th Annual Chili Cook-Off from 2 to 6 p.m. Saturday, March 4.
Think you got what it takes to make the best chili around? Enter our contest to win CASH PRIZES! $20 to enter ($25 on the day of the event). Details and rules are spelled out below. Entry forms are available at the bar OR click the button below to download an entry form to fill out and turn in at the bar.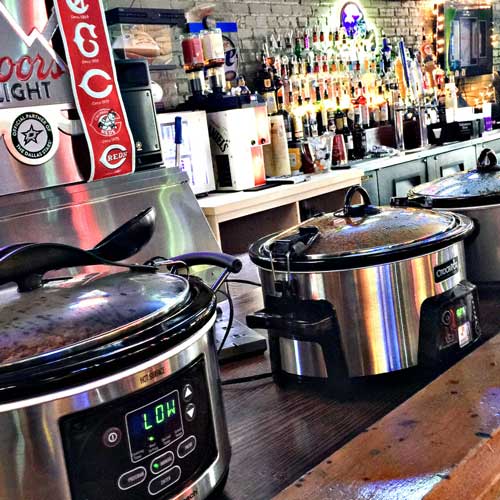 Got $5? Then you can be a volunteer judge for the contest! Five bucks gets you a spoon and a ballot.  People's Choice judging will run from 3-5 p.m.
Enjoy Stan's spacious back patio, complete with a wooden arbor and outdoor TVs.  There will be more than 50 beers on tap, 30 big screens playing non-stop sports action, a menu featuring made-from-scratch recipes, dartboards, a pool table, shuffleboard, music – and of course some of the best chili around.
Proceeds from the judging will benefit Children's Medical Center and Scottish Rite Hospital through the Heart of Gold Foundation. Come out for a full day of great food and fun for a good cause!
2023 Chili Cook-Off Rules
Thanks for entering Stan's Blue Note's 11th annual chili cook-off! We are going to have a great time and eat some great chili! Here are some things you need to know:
Your chili must be prepared at home and arrive at Stan's in a crock pot or some type of warming device by 2:30 pm on Saturday March 4th. Once you arrive with your chili, you will be given a wristband for acquiring your free draft beer (of the bar's choosing) between 3:00 and 5:00 pm Your chili will be given a number at this time and sent to the judging area.
Category 1 – Texas Rules Chili – No beans, pasta, rice or other similar items are allowed.
Category 2 – Anything Goes – vegetarian, beans, fillers, etc.
Judging for Texas Rules Chili will be a blind judging with the winner getting a cash prize based on the number of entries.
People's Choice Judging – The voting is done by popular vote by anyone that wants to participate at Stan's that day. Winner will receive a cash prize based on the number of entries. Participating judges will pay $5 and be given a spoon and ONE ballot. Judges can buy multiple ballots at $5 each. Proceeds from the judging will go to the HOG Foundation Inc dba Heart of Gold which supports children's camps at Children's Health Center and Texas Scottish Rite Hospital.
Tasting and judging will begin at 3:00 and will close at 5:00. Votes will be counted and the results announced before 6:00 p.m.